I suppose it's rather odd to begin a new blog with a post title signifying something ending, yet here we are. I wrote the following poem specifically for this photograph, which I took last November 18th. It was a magic hour of rich and sublime colors, mixed with layered, quickly morphing cloud formations. The photography outing resulted in more than a dozen strikingly distinct images worth sharing. (Find some on my Photography page.)
Despite the rosy scene, this poem unexpectedly turned dark. The first stanza poured out of me, setting the tone and direction. (Each stanza is touched by its own ending.)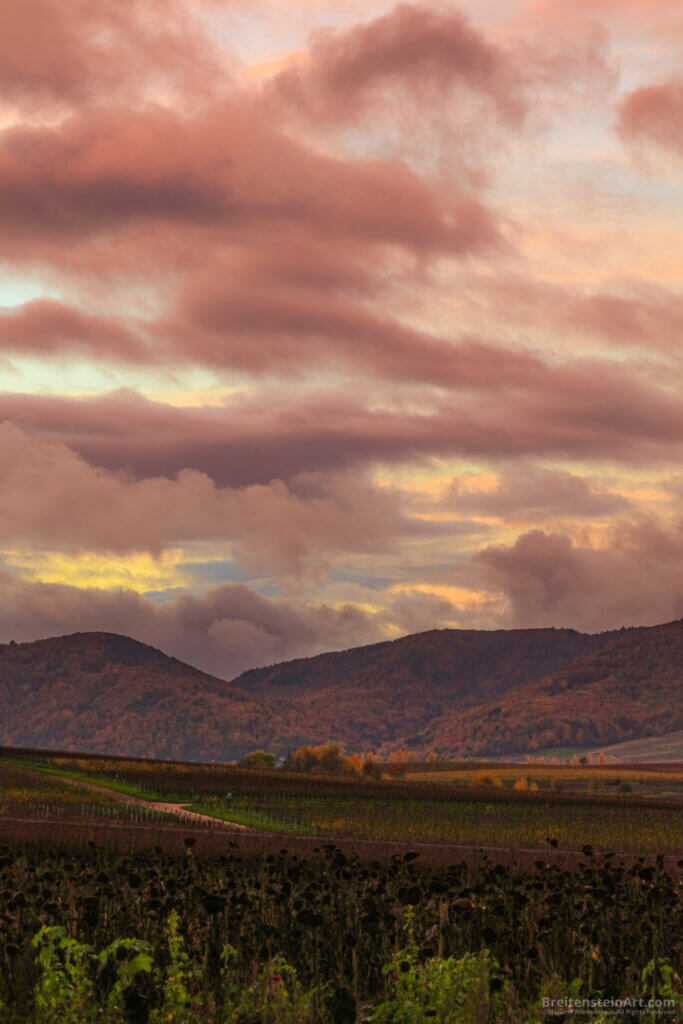 Endings
Our life-giving sun king has slipped away at last,
tinting clouds in pink-lavender-peach as a
final offering to his cold, moon-faced queen,
beckoning her to come—quickly!—but
she is too late, too late for his demise.
Beneath the fading vapors, forest-clad mountains
wear thick autumn coats, yet shiver,
bereft, in the chilled evening breeze.
On gentler hills, the vineyards—arms intertwined in
helpless defense—have been stripped of their
grapes, those green and purple teardrops,
once kissed and sweetened by the very sun
for whom they now cannot weep.
And in the lowest field, heads bowed in
silent grief, the sunflowers gather in mourning,
blackened on their withering stalks.
---
Undoubtedly, this will not be the last photograph + poem combination I publish here. Due to the beauty of Pfalz, Germany (where I live), with its rolling vineyards and fairy tale forests, I am inspired to write. Combining these arts is soul-enriching. Does the coupling of image and words also float your boat?
If you liked this post, you have options:
---
© Marlene Breitenstein. I welcome your inquiries about purchasing, licensing, or republishing my work. I take my intellectual property seriously. This post and its contents, unless otherwise noted, is owned by Marlene Breitenstein. It is not to be reproduced, copied, or published in derivative, without permission from the artist. I'm nice, but I do not hesitate to pursue copyright infringements. Do not mistake my kindness for weakness.